OVERVIEW
EXPERIENCES HIRIWADUNNA VILLAGE TOUR.
Join this 2.5 hour tour for lifetime opportunity to be emerged in the nature and culture of real Sri Lanka Village. Your Guide cum driver will pick up from centrally located Habarana/Sigiriya/Dambulla hotel & drive by a Tuk tuk to hiriwadunna village, a beautiful rural area in Habarana city. Tour start with a Bullock cart ride near to the village pond & at there you will experience a boat ride to the next side of the rural village. After short walk within the paddy fields & vegetable cultivation you can reach village house. At the village house you can relax & taste a delicious Sri Lankan Lunch. Then take a Tuk Tuk ride to tour start point & after finish tour you will be take back to your hotel.
TOUR PLAN
Complete package includes hotel pickup and drop off by Tuk tuk, a Bullock cart ride, Boat Ride, Visit a Village House, have a local lunch and Take a Tuk-Tuk Ride.
Pickup from hotel by Tuk tuk 
Driver will pick up from centrally located Habarana / Sigiriya / Dambulla hotel & drive by a Tuk tuk to hiriwadunna village, a beautiful rural area in Habarana city. Tuk tuk transfer gives you a good chance to experience the natural breeze and take photos of the attractions alongside the road.
Bullock cart ride
Usually this 2.5 hour trek begins with a Bullock Cart Ride to Hiriwadunna through unbeaten village tracks. There are 2 Bulls dragging the cart and ride last long from 15mins to 30mins. Rides ends near the Hiriwadunna Lake where you get off from the cart and join for Catamaran Boat Ride 
Catamaran Boat ride
Catamaran Boat Ride takes place on the Hiriwadunna lake. You will cruise admiring the amazing views besides the lake which is also overlooking the Sigiriya and pidurangala rocks. If you are interested in, you can also join with the Boatman and help out rowing the boat. He might surprise you with his craftsmanship and creativity, hat for the gentleman and a beautiful necklace for the ladies. At the end of the Tour Boat will dock by the small village on the other side of the shore.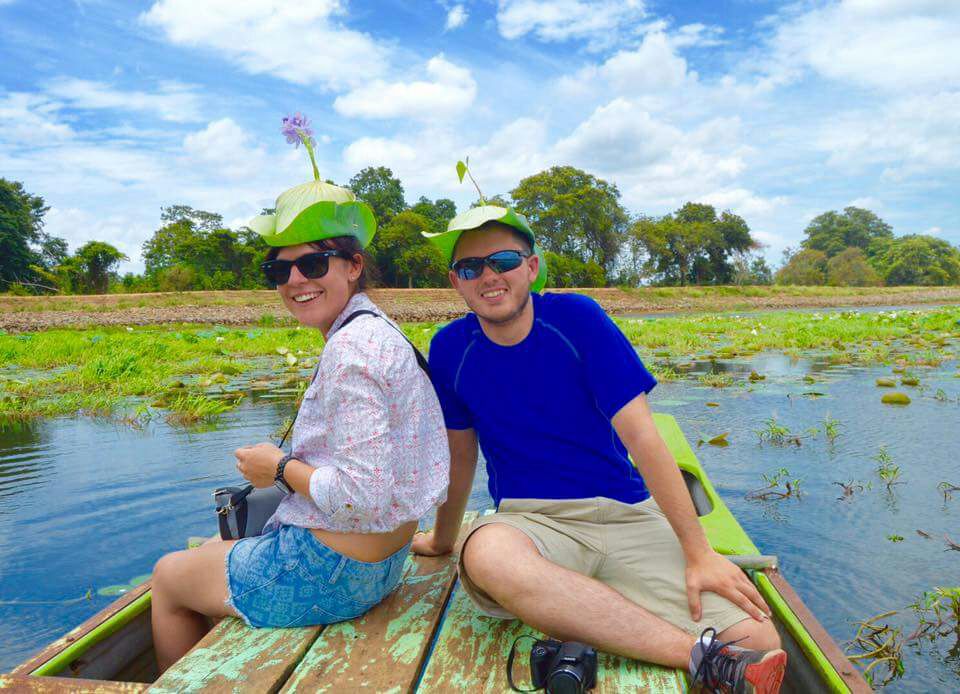 Village House Cooking demonstration & Lunch or Snack
You can observe a traditional daily live of a real village house. Should not miss a visit to the paddy field, See a garden where endemic vegetable grown. Climb the tree house next to the paddy field where farmers sleeps at night and try to keep animals away from the paddy.
One village woman who wears redda & hatte (Traditional dress of Sri Lanka) , warmly greeted us with a nice smile saying,
She gave you a half an hour cooking demonstration on traditional Sri Lankan cooking. You can also see how a village woman cook a traditional meal or a roti. She Shows how to make a roof out of coconut leaves and how to use kulla and mirisgala to separate rice seeds from the husks and straw. You can also try those items. You can enjoy a simple traditional meal prepared by a village woman the using the Farmer's hand-picked vegetables from the plot.
Your lunch was served in a buffet style, rice with 5-6 traditionally cooked Sri Lankan curries and fresh fried fish in clay pots. Remarkable experience is lunch served on top of clean lotus leaves. After having your delicious Sri Lankan lunch you can spent your time over there.  
Inclusions:
Free Hotel pickup and drop-off by a Safari jeep from Habarana (Sigiriya/Dambulla/Kandalama & Polonnaruwa hotels by Extra fee)

Local driver cum guide

All Entrance fees (Canoe boat ride, Bullock cart ride, Tuk tuk ride)

Lunch or Snack at village house (* Request us if you need for Lunch)
Exclusions:
Food and drinks, unless specified

Gratuities (optional)
Additional Info:
Children must be accompanied by an adult 

Please advise any specific dietary requirements at time of booking

Not recommended for participants with heart complaints, back problems or other serious medical conditions

Not recommended for pregnant women

Due to rugged surfaces, this tour is not recommended for those with walking disabilities or using a wheelchair

For pickup & drop-off from Polonnaruwa/Sigiriya/Kandalama & Dambulla area  hotels can arrange by an additional fee. Please call us in advance.